Australian Botanical prints by artist Maurice Hayler, designed to endure.
Each print carries the artist's signature and is stamp-embossed for authentication.
Our art is printed with care on Hahnemühle fine art archival paper with archival Epson UltraChrome pigment inks, good for at least 75 years. View all print and mat sizes here.
Please Note: that all orders typically leave within one to two business days.
We can (and do) process urgent and express orders on request.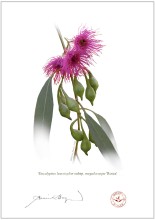 Botanical Information:
Family:
Myrtaceae
Genus:
Eucalyptus
Species:
leucoxylon
Subspecies:
megalocarpa
Meaning of name:
Eucalyptus
is from Greek:
eu
, well +
calyptos
, covered. A reference to the well-covered cap covering the developing flowers
leucoxylon
is from Greek:
leucos
, white +
xylon
, wood. A reference to the trunk colour
megalocarpa
is from Greek:
megalos
, large +
carpos
. A reference to the fruit
Common names for
Eucalyptus leucoxylon
are Yellow Gum, (South Australian) Blue Gum and White Ironbark. There are four subspecies, all highly variable:
E. leucoxylon subsp. leucoxylon is the typical form
E. leucoxylon subsp. pruinosa has greyish juvenile leaves and fruits
E. leucoxylon subsp. petiolaris (no. 229 in our collection) has bell shaped ribbed fruits and juvenile leaves with long stalks
E. leucoxylon subsp. megalocarpa is smaller and bears large fruit
Eucalyptus leucoxylon
subsp.
megalocarpa
is widely available under the hoticultural name 'Rosea'.
As a species,
E. leucoxylon
is a medium sized tree that grows between 10m to 30m (33 to 98 feet) high. Rough bark is found on the lower 1m to 2m (3 to 6.5 feet) of the trunk, and above that the trunk and branches become smooth barked with a white, yellow, or bluish-grey surface. 'Rosea' however only grows to 7m (23 feet).
E. leucoxylon
produces white, cream, pink, or red flowers depending on type, but 'Rosea' is highly regarded for its prolific and spectacular pink-red flowers that appear in autumn and winter.
This print features in the
Eucalyptus leucoxylon subspecies
diptych collection and the
Eucalyptus 'Rosea' Cultivars
diptych collection.
Please note that frames are not included.
More detailed information about all print and mat sizes shown below is here.
Showing 1 to 18 of 18 (1 Pages)
Testimonials
"I just wanted to say a huge thank you! I received the prints today and they are absolutely beautiful and better than I could have imagined. Thank you so much."
"I just rang to say your prints are gorgeous and so beautifully packed I re-used your packaging to send them overseas!"
"Thank you so much for my four A4 Botanical Prints, I knew they would be beautiful but they really are exquisite. I have framed them in white and they will certainly be admired every day."
"It was such a pleasure drooling over these stunning pieces online then using the collection by state option to choose a plant local to my area. Maurice's work is detailed and gorgeous, and I can't thank Kristi enough for her help arranging everything and dispatching it express post, and for being an absolute hoot to deal with both over the phone and online. I've purchased this as a farewell gift for a colleague but am now looking at options for my own walls."
"I wanted to let you know that [our daughter] LOVED her prints. When she looked at the website, she wanted them ALL but of course was grateful for our choice. Maurice's work is very inspiring and so very beautiful. Many thanks for your help."
"Prints arrived this morning! They are absolutely stunning in person. Thank you so much for getting them to me quickly and creating a lovely shopping experience."
"Just letting you know that N. absolutely loved the prints (particularly the
Sturt Desert Pea
which is her favourite flower) and was so impressed when I told her about your service. You've absolutely made her Christmas, so thank you. From what she said I think she'll be buying another two prints shortly!"
"I'm just so grateful for your service, it's rare to find a business owner as good as yourself!" [Thank you!]