Australian Botanical prints by artist Maurice Hayler, designed to endure.
Each print carries the artist's signature and is stamp-embossed for authentication.
Our art is printed with care on Hahnemühle fine art archival paper with archival Epson UltraChrome pigment inks, good for at least 75 years. View all print and mat sizes here.
IMPORTANT and Please Note: that all orders received Tuesdays to Sundays are dispatched the following Monday. Every effort will be made to fulfill orders received on Mondays that same day, otherwise they will be dispatched next day Tuesday if we can't make Monday in time.
We can process urgent and express orders on request.
How should I frame my print?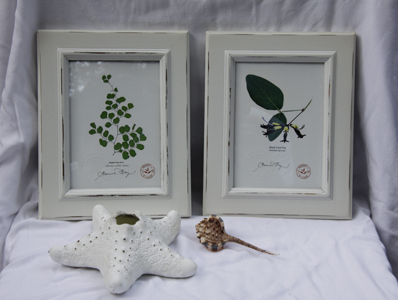 Unless you would prefer us to custom-frame your prints, we sell our work unframed for two good reasons: in practical terms to contain shipping costs, but also to allow you to fine-tune your choice. Our work may be gallery quality but it lives with you, in a real home or office, for your enjoyment. We print to modern photographic frame dimensions so you can store buy or custom frame; and our collection of unusual botanicals look stunning in your antique or flea market finds. How you frame the print can have a big impact on how it presents: hot/ cold/ modern/ traditional.
We do offer white mats for all our print sizes — colours that will go with any décor and frame and that look even more stunning when given as gifts.
Climate Control
Historically, early European settlers to Australia faced enormous extremes in temperature and their homes reflected this: a need to be sometimes cosy and sometimes cool. You, too, can customise your botanical print to the climate zone of your choice. If you need to cool down, think simple, white, green. Choose Maidenhair fern for the sparest look in an all-white bathroom, or Grevillea Moonlight for a white on white effect. Some of our seed cones and spent flowers are genuine chameleons, looking wild and coastal or windy autumnal. Grouped prints, particularly, suggest a cosy reading nook by the fire.
Our Christmas Selection
Christmas is widely celebrated all over Australia and while fashions come and go, the green and red of the holly and ivy win out year after year. Oddly enough for a country with so many red flowers and green leaves, Australians themselves have been slow to take up their own seasonal emblems. Create a festive tradition for your own family or for someone you love with these gorgeous alternatives: Cape Leeuwin Creeper, Firewheel, or the Sturt's Desert Pea.
Testimonials
"I just wanted to say a huge thank you! I received the prints today and they are absolutely beautiful and better than I could have imagined. Thank you so much."
"I just rang to say your prints are gorgeous and so beautifully packed I re-used your packaging to send them overseas!"
"Thank you so much for my four A4 Botanical Prints, I knew they would be beautiful but they really are exquisite. I have framed them in white and they will certainly be admired every day."
"It was such a pleasure drooling over these stunning pieces online then using the collection by state option to choose a plant local to my area. Maurice's work is detailed and gorgeous, and I can't thank Kristi enough for her help arranging everything and dispatching it express post, and for being an absolute hoot to deal with both over the phone and online. I've purchased this as a farewell gift for a colleague but am now looking at options for my own walls."
"I wanted to let you know that [our daughter] LOVED her prints. When she looked at the website, she wanted them ALL but of course was grateful for our choice. Maurice's work is very inspiring and so very beautiful. Many thanks for your help."