Australian Botanical prints by artist Maurice Hayler, designed to endure.
Each print carries the artist's signature and is stamp-embossed for authentication.
Our art is printed with care on Hahnemühle fine art archival paper with archival Epson UltraChrome pigment inks, good for at least 75 years. View all print and mat sizes here.
IMPORTANT and Please Note: that all orders received Tuesdays to Sundays are dispatched the following Monday. Every effort will be made to fulfill orders received on Mondays that same day, otherwise they will be dispatched next day Tuesday if we can't make Monday in time.
We can process urgent and express orders on request.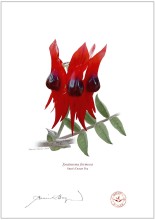 Botanical Information:
Family:
Fabaceae
Genus:
Swainsona
Species
:
formosa
Meaning of name:
Swainsona
, after Isaac Swainson (1746–1812), an English botanist famous for his botanical garden
formosa
is from Latin:
formosus
, shapely, beautiful, handsome. The flowers
The Sturt's Desert Pea is one of the more famous of Australian wildflowers, and it is the floral emblem of South Australia. Its natural environment is the arid central regions of Australia, and its range covers all the mainland States with the exception of Victoria.
While the plant was first collected by English explorer William Dampier in 1699, its common name comes from the later explorer Charles Sturt, who recorded seeing vast numbers of the flowers during his exploration of the Australian interior in 1844.
The Desert Pea is a prostrate legume that can spread out to about 2m (6.5 feet). The flowers appear from spring to summer, and especially after rain. The coloured spot in the middle of the flower is called the 'boss'. While the blood-red flower colour with a black boss is the most well-known, there are naturally occurring red types with red or pink bosses, and a naturally occurring pure white form with a white boss as well. Six 8cm flowers are borne on each flower stalk, which turn into hairy pods, each containing about 50 flat, kidney shaped seeds.
Please note that frames are not included.
More detailed information about all print and mat sizes shown below is here.
Showing 1 to 6 of 6 (1 Pages)
Testimonials
"I just wanted to say a huge thank you! I received the prints today and they are absolutely beautiful and better than I could have imagined. Thank you so much."
"I just rang to say your prints are gorgeous and so beautifully packed I re-used your packaging to send them overseas!"
"Thank you so much for my four A4 Botanical Prints, I knew they would be beautiful but they really are exquisite. I have framed them in white and they will certainly be admired every day."
"It was such a pleasure drooling over these stunning pieces online then using the collection by state option to choose a plant local to my area. Maurice's work is detailed and gorgeous, and I can't thank Kristi enough for her help arranging everything and dispatching it express post, and for being an absolute hoot to deal with both over the phone and online. I've purchased this as a farewell gift for a colleague but am now looking at options for my own walls."
"I wanted to let you know that [our daughter] LOVED her prints. When she looked at the website, she wanted them ALL but of course was grateful for our choice. Maurice's work is very inspiring and so very beautiful. Many thanks for your help."