Australian Botanical prints by artist Maurice Hayler, designed to endure.
Each print carries the artist's signature and is stamp-embossed for authentication.
Our art is printed with care on Hahnemühle fine art archival paper with archival Epson UltraChrome pigment inks, good for at least 75 years. View all print and mat sizes here.
IMPORTANT and Please Note: that all orders received Tuesdays to Sundays are dispatched the following Monday. Every effort will be made to fulfill orders received on Mondays that same day, otherwise they will be dispatched next day Tuesday if we can't make Monday in time.
We can process urgent and express orders on request.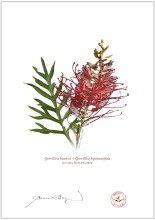 Botanical Information:
Family:
Proteaceae
Genus:
Grevillea
Hybrid:
Grevillea banksii
×
Grevillea bipinnatifida
Meaning of name:
Grevillea
, after Charles Francis Greville (1749–1809), an English patron of botany and a founder of the Horticultural Society in 1804
banksii
, after Sir Joseph Banks (1743–1820), an English naturalist and botanist who accompanied (then) Lieutenant James Cook on the
Endeavour
in 1768–1771, and who did much to bring Australian botany to the European world (
Grevillea banksii
was first described by the Scottish botanist Robert Brown and named in honour after Banks)
bipinnatifida
is from Latin:
bi
, two +
pinna
, feather +
findo
, to split. A reference to the leaf shape
Grevillea banksii
×
Grevillea bipinnatifida
would have a leaf partway between
G. banksii
and
G. bipinnatifida
in shape.
The Grevillea 'Robyn Gordon' cultivar is very popular in Australia and overseas for its attractive foliage and deep red flowers. It was selected by David Gordon in Queensland for its prolific and year-round flowering. While released to the nursery trade in 1968, the plant was registered in 1973 with the name 'Robyn Gordon' in memory of David and Dorothy Gordon's daughter who had died aged 16 in 1969.
'Robyn Gordon' is a shrub reaching 2m in height and 3m in width (6.5 ft by 10 ft).
The cultivar
'Superb' (no. 135 in our collection)
is also a hybrid of
G. banksii
and
G. bipinnatifida
(bred by Merv Hodge), but has a more apricot orange tinge to the flowers.
This print features in the
Grevillea Collection 1
diptych and the
Grevillea Collection 3
triptych.
Please note that frames are not included.
More detailed information about all print and mat sizes shown below is here.
Showing 1 to 18 of 18 (1 Pages)
Testimonials
"I just wanted to say a huge thank you! I received the prints today and they are absolutely beautiful and better than I could have imagined. Thank you so much."
"I just rang to say your prints are gorgeous and so beautifully packed I re-used your packaging to send them overseas!"
"Thank you so much for my four A4 Botanical Prints, I knew they would be beautiful but they really are exquisite. I have framed them in white and they will certainly be admired every day."
It was such a pleasure drooling over these stunning pieces online then using the collection by state option to choose a plant local to my area. Maurice's work is detailed and gorgeous, and I can't thank Kristi enough for her help arranging everything and dispatching it express post, and for being an absolute hoot to deal with both over the phone and online. I've purchased this as a farewell gift for a colleague but am now looking at options for my own walls.